Si vous êtes un joueur NoPad nous vous conseillons de mettre le nom de clan suivant sur les différents jeux auxquels vous jouez afin de vous reconnaître : [nPad]. Cliquez ici pour avoir la liste des joueurs de No-Pad.fr.
Test Sharkoon X Tatic S7 + photo
-Specificté
Image du S7 – packaging: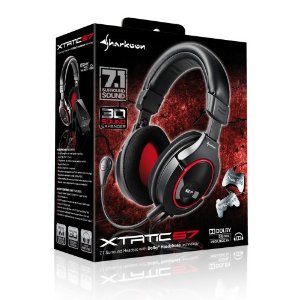 *Fiche technique
Features:
7.1 Surround headset with Dolby® Headphone technology
Dolby® Headphone for multi-platform gaming (Xbox® 360, PS3™, PC etc.)
Supports Dolby® Digital 5.1, Dolby® Pro Logic® IIx and Dolby® Headphone
USB-powered, no additional power adapter needed
Supports Xbox® Live
Supports the PlayStation® 3 chat function (via USB)
Flexible, detachable microphone
Microphone connected to Xbox® 360 controller (2.5 mm plug)
Microphone connected via USB (USB to PS3™)
In-line amplifier with volume controller and microphone mute
Game sound and chat volume can be separetly configured and individually adjusted. Thus your gaming partners are always clearly audible, because the chat volume control defines the loudness of your chat partners' voices.
Specifications (headphones):
Diameter: 40 mm with NdFeB magnet
Impedance: 32 ?
Sound pressure level: 120dB +/- 3 dB at 1 KHz
Frequency response: 20 Hz – 20 kHz
Power output: 30 mW
Cable length: 410 cm +/-10 cm
Connector: 1x 6-pin analog plug
Specifications (microphone):
Diameter: 6 x 5 mm (L x B)
Directivity: omni-directional
Sensitivity: -58 dB +/- 3 dB
Impedance: 2.2 k?
Frequency response: 100 Hz – 2 kHz
Operating voltage: 4.5 V
Features Sound Control Unit (SCU):
Dolby® Headphone function can be activated/deactivated (stereo bypass)
3D stereo function (stereo expander) can be activated/deactivated
Analog and digital input
Supports the chat function of PS3®, Xbox® and Xbox® 360
Connector for additional stereo headset (3.5 mm line out)
Connector for additional analog sound source (3.5 mm line in)
Specifications (SCU):
1 digital optical input (S/PDIF)
1 analog 3.5 mm audio input (line in / stereo)
1 6-pin audio output for the X-Tatic S7 headset (G6)
1 analog 3.5 mm audio output (line out / stereo) for additional headset
1 USB B connector (power and PS3® chat)
Dimensions: 22.5 x 106 x 63 mm (H x L x W)
Weight: ~89 g
Suitable for:
Game consoles (e.g. Xbox®, Xbox® 360 and PS3™)
PCs and Laptops
DVD and media players
Tablet PCs, Smartphones and MP3/MVP players (e.g. iPod®, iPad®, iPhone®)
Package contents:
X-Tatic S7
Sound Control Unit (SCU)
Detachable microphone
Microphone connection cable for Xbox® 360 (3.5 mm jack > 2.5 mm jack)
Stereo connection cable (3.5 mm jack > 3.5 mm jack)
Stereo extension cable (3.5 mm plug > 3.5 mm jack)
Optical connection cable (S/PDIF)
USB2.0 cable (type A > type B)
G6 adapter cable (G6 > USB2.0 A and 2x 3.5 mm connectors)
Manuals
source: Sharkoon.com
Où l'acheter ? :
Pour nous soutenir vous pouvez l'acheter sur Amazon.fr avec qui nous sommes affilié. Merci d'avance.
Image du S7 – Présentation 1: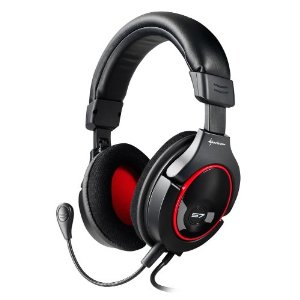 -Intro
*Contenu package et description
Profitez de la nouvelle génération de casque de chez Sharkoon succédant au X Tatic Digital,
Le S7 X-Tatic offre toutes les commodités que vous attendez d'un casque moderne, avec son arceau rembourré, ses réglables simples, des écouteurs isolant et le microphone flexible.
Restez indépendant!
Le S7 X-Tatic est alimenté via le port USB – aucune alimentation supplémentaire n'est requise.
Identique en tout point au Sharkoon X Tatic Sr, il délaisse cependant l'émulation 5.1 pour un rendu 7.1 toujours émulé grâce au SCU (Sound Control Unit).
Offrant toujours une compatibilité étandue, pouvant être aussi bien associé à votre PS3/Xbox 360 ou encore PC.
-Prise en main
*Ergonomie/confort
Conçut sur la base du Sharkoon X Tatic Sr, il se présente donc sous la forme d'un casque filaire à arceau rembourré.
La forme des oreillettes reste inchangée.
Le port est toujours aussi agréable.
Image du S7 – Présentation 2: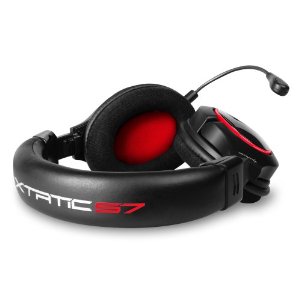 -A l'usage
*Son & micro
Le casque dispose toujours de deux hauts-parleurs de 40mm.
Le Sound Unit Control a pour fonction de restituer un rendu 7.1 sur ces deux Hauts-parleurs.
La spatialisation 3D est aussi réussit qu'avec le X Tatic Sr.
Le micro flexible et amovible reprends la même forme traditionnelle que celle du Sr.
Image du S7 – Casque + SCU: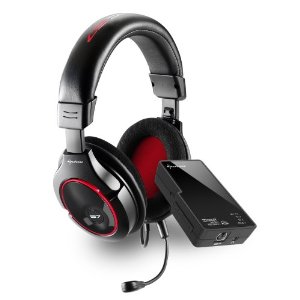 -Conclusion
*Mon avis
Le Sharkoon X Tatic S7 est enfin disponible.
Vous l'aurez compris peu de changement à signaler sur cette version hormis l'émulation 7.1 et une connectique USB 2.0 en Y.
– +&-
+: 7.1 – compatible Xbox PS PC – Confort
-: Même problématique en vue, micro fragile et chauffe des oreilles sur la durée de port
Video Youtube – Sharkoon Technologies:
Sharkoon X Tatic S7:
L'équipe de No-Pad.fr